BSPCEs (stock options in start-up companies) are a way of ensuring employees have a vested interest in results, and aligning their interests with those of the company. In addition, they are a useful tool for attracting talent and building loyalty in a competitive recruitment market. They can also be incorporated into managers' and directors' management packages.
BSPCEs are stock options that are granted freely by a company, giving their beneficiaries the right to buy company shares at a price definitively set on the day on which they are issued, with net gains subject to favorable tax rules. This means that any increases in share value between the day on which the BSPCEs were emitted and the day on which the shares are transferred could potentially result in significant profit.
BSPCEs can be granted to the company's employees, managers and directors, as well as those in subsidiaries more than 75% owned by the company in question.
Only joint-stock companies (including simplified joint-stock companies) can issue BSPCEs, and must consequently meet the following criteria:
Be an unlisted company or a company with low market capitalization (market capitalization under €150m)
Have been registered for at least 15 years
Be subject to French corporate tax
Be held by natural persons (minimum 25%) whether directly or since its inception, or by legal persons that are themselves held by natural persons (minimum 75%)
Have been started from scratch (meaning not the result of a previous company being restructured, or a takeover).
The above criteria must all be met on the date on which the company issues the BSPCEs. The decision to issue BSPCEs and the terms and conditions under which they are issued are set by Extraordinary General Meeting (or by the shareholders in the case of simplified joint-stock companies). In particular, the EGM determines:
The purchase price for BSPCE shares subscribed,
The list of eligible beneficiaries,
The time-frame for exercising the BSPCEs.
The BSPCEs that are issued must be exercised within the time-frame determined by the EGM. Employees may pay the price for exercising BSPCEs by check, bank transfer or in exchange for any compensation owed (salary, bonus, etc.).
Furthermore, the company can draw up a vesting schedule, thereby setting out the deadlines by which BSPCEs are definitively acquired by their beneficiary and can be exercised. This system is a way of rewarding employees' commitment and loyalty, as they gain the right to exercise their BSPCEs as they grow with the company. BSPCEs can also be attached to conditions, under which they can only be exercised subject to individual and/or group performance, either as well as or instead of conditions pertaining to an employee's years of service.
When an employee wishes to exercise their BSPCEs, the company must register the ensuing subscription of the shares in their register of share transfers and a shareholder account is to be opened in the beneficiary's name.
It should be noted that if, in the six months preceding BSPCEs being issued, the company has increased its capital by issuing shares underpinned by rights equivalent to the shares resulting from employees exercising their BSPCEs, the purchase price for the shares subscribed by exercising BSPCEs must be at least equal to the price at which the shares were issued with respect to the capital increase in question.
However, for BSPCEs issued on or after 23 May 2019, this purchase price may be reduced by the same amount as the shares' loss of value since the capital increase. In addition, under the 2020 Finance Law, in cases where the rights to shares resulting from BSPCEs are not at least equivalent to those issued upon capital increase within the six months preceding the BSPCEs being issued, the purchase price can be reduced by the amount equal to this difference in rights.
Les BSPCE constituent une niche bénéficiant d'une fiscalité allégée comparée aux stocks options. Le gain net réalisé à la cession des actions souscrites lors de l'exercice des BSPCE, soit la différence entre 1) le prix de cession et 2) leur prix d'acquisition est imposable selon le régime des plus-values de cessions de valeurs mobilières.
BSPCEs serve as a good tax break option compared to standard stock options. The net gains for the transfer of shares upon exercising BSPCEs, meaning the difference between the transfer price and the purchase price, are subject to capital gains tax on securities.
As a result, a 19% tax rate is applied to net gains for transfers, for BSPCEs issued prior to January 1, 2018. This rate increases to 30% if, at the time when the transfer capital gains were made, the BSPCE beneficiary:
Has been with the issuing company for less than three years,
Is no longer a salaried employee/director/manager, and was with the issuing company for less than three years.
Capital gains are subject to investment income social security taxes at 17.2%.
Under the 2018 Finance Act, transfer capital gains resulting from BSPCEs issued after 1 January are taxable at a flat tax rate, amounting to a total tax rate of 30% (12.8% income tax, and 17.2% social security contributions). The tax payer does, however, retain the option of being subjected to the aforementioned standard system.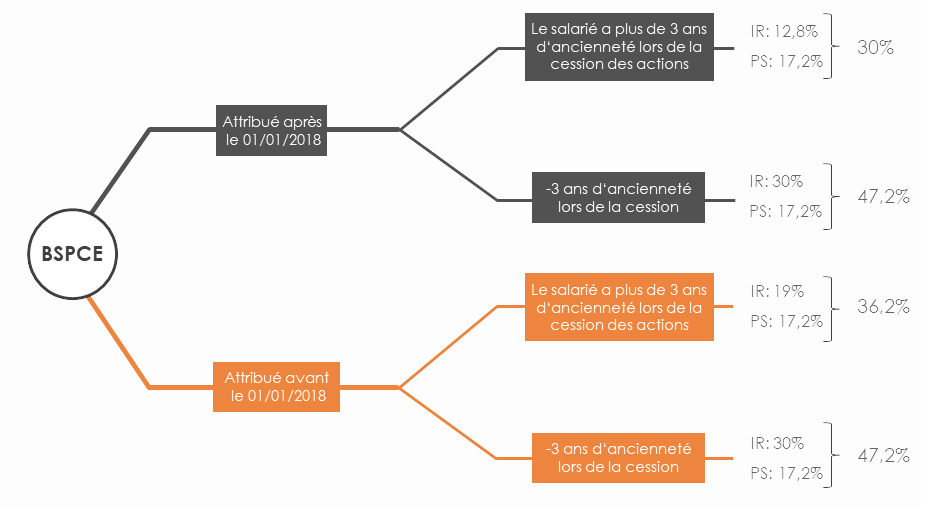 An illustration of how BSPCE-related tax works: IR = income tax; PS= social security contributions.
When they issue their employees with BSPCEs, some companies also provide them with a capital gains simulator that gives them a rough idea of what net gains they might expect, taking into account the variables that can impact on this amount when BSPCEs are exercised.
It should be noted that BSPCEs and shares resulting from BSPCEs cannot be included in an employee's PEA (shares savings plan) portfolio. The tax benefits linked to BSPCEs cannot be combined with those inherent to PEA plans.
Find out more: get in touch at contact@financepeers.fr. We'd be delighted to answer any questions you might have, and help you set up BSPCEs, BSAs (stock subscription warrants) and management packages.